The 'Defense' of Manchester City
Sir Alex Ferguson once said, "Attack wins you games, defence wins you title" and turns out he did know a thing or two about winning titles. Manchester City's league struggles bears witness to the importance a solid defence holds in title races.You could point out to various moments throughout the season and say the title was lost there, but the fate was sealed long before the season started and Aymeric Laporte's long term injury in August end only confirmed the inevitable.
Vincent Kompany announced his departure from the club a day after City secured the Domestic Treble in May last year. He spent 11 years at the club, proving not only to be a great defender but an exceptional leader. He'd made the decision a couple of weeks before that, but held back the announcement to avoid proving as a distraction during a crucial phase of the season. He sacrificed getting a proper farewell at the Etihad but what else would you expect from a leader like him?
However, you'd expect the club executives to acknowledge a man like him can't go unreplaced. His exit left Laporte, Otamendi and Stones as the remaining senior centre back options. In an ideal world, 3 CBs with a seasoned campaigner in Fernandinho and a promising youngster like Eric Garcia should have been enough, but it was no secret Otamendi and Stones weren't their usual selves we saw in 2017-18 campaign, that Fernandinho was ageing and Garcia never played a single Premier League minute before.
City did try to look for a new centre back in the market, or atleast the reports suggested that, but nothing materialized. City's approach in transfer dealings has always been clear - not indulging in bidding wars and not paying more than the market price of a player. In it lies a message that the club only wants players who want to play for the badge and not money. It's a good strategy in principle and Alexis Sanchez is it's biggest success story, but this way you're bound to miss out on some top talent as well. City were reported to be interested in the likes of Kalidou Koulibaly, Milan Skriniar and Harry Maguire to name a few but were met with massive price tags and competition from other clubs and eventually gave up on signing a new centre back altogether.
Pep said throughout the summer that the defence was strong enough for the season ahead but it's unlikely he was entirely convinced by his own words. It took 14 wins in a row to gain a one point advantage over Liverpool and win the title last season. Title races like that need tight defences and stronger resolves. Kompany provided both, receiving fitting assistance from Laporte. But without the former, the latter couldn't have done the same with the current crop of defenders and as it turned out, it was rather Fernandinho who had to do it without both of them.
It was obvious Liverpool were going to come even harder this season and City needed to be prepared for it. The former happened, the latter didn't. And it's not hard to see why. With Pep formally announcing no new centre back would be coming, the doubts about the three peat first started creeping in. When Laporte got injured, the pragmatic ones knew the title challenge was quite possibly over. The optimistic ones like me kept looking at all those records City broke in 2017-18 with the pairing of Otamendi and Stones at the back. Unfortunately, that optimism could only last till the 50th minute mark of City's very next game. Norwich scored 3 past City, with both the centre backs making costly errors. From the rock solid pairing of Laporte and Kompany, City reached a stage where a 34 year old Fernandinho, who played in midfield his entire career, was somehow City's most trusted defender in the squad now. Otamendi has struggled to stay on his feet ever since while Stones continues to battle his mysterious injuries.
Pep also tried some really adventurous things in order to find a solution for this defensive mess. The one where you just can't be bothered with your centre backs anymore and station the defensive midfielders there instead. As Stones and Otamendi were both unfit, Rodri and Fernandinho partnered in defence at Selhurst Park and kept a clean sheet. It obviously got Pep excited and despite having Otamendi and Stones available in the next game vs Atlanta in the Champions League, he couldn't go back to normalcy. This time Rodri tore his hamstring.
Surprisingly, 34 year old Fernandinho has been the only reliable centre back this season, both in terms of performance and fitness. Since the Watford game back in September, he started in 20 consecutive league games, playing 85+ minutes in 19 of them. The West Ham game in February was the first time since September where Fernandinho was rested and 2 established centre backs started in a league game for City.
Not only did the others fail to negate Kompany's absence in defence, his leadership skills have gone unreplaced as well. Many believed David Silva was the right choice to be Kompany's successor. He has been at the club for a decade, is respected by all and is in his last season at the Etihad. But time has proved sentimental values shouldn't exactly be the deciding criteria for it. David Silva is one of the nicer guys and you wouldn't expect him to set his teammates straight when they make a silly error. But you need to be tough in moments like that. De Bruyne had shown glimpses of it in the past and this season as well. So lesson for next season - don't burden legends with duties that others can perform better and risk their legacy in the process. In short, De Bruyne has to be the captain next season.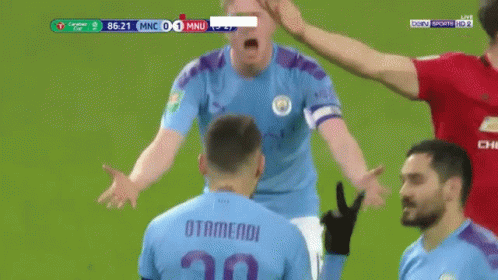 Laporte's comeback from injury has looked to stabilize City's defence and in turn, the entire structure of the team to a large extent and City are yet to lose a game this season when he has played. But he alone won't be the solution to the problems we have witnessed this season. Fernandinho is reliable but also 34, and he can't keep up with the pace of Premier League strikers on his own. Pep is highly unlikely to lay his trust and City's titles hopes for next season on Otamendi and Stones alone. City have to sign a new centre back this summer, and either or both of Otamendi and Stone would need to be sold. Given the age and potential, expect Otamendi to be the one on his way out.
Among all this, Eric Garcia has quietly made his case as a future centre back partner of Laporte at the club. He has made 7 PL appearances this season, including 3 starts (same as Foden). City are yet to lose a game this season when he has started. It's hard to not like academy players and want to see them play every single minute, but for someone who's only 19, Garcia has shown incredible maturity and has not put a foot wrong, which to put into perspective, happens almost every game with Stones and Otamendi. With league gone now, Pep needs to play Garcia as much as he can, and a start vs Arsenal was encouraging stuff in that regard.
There are also divided opinions on what type of defender City needs. Should he be someone who has age on his side but no the experience or the other way round? If it's the former, there are players like Ruben Dias who have been scouted by City previously. But it begs the question - how many young centre backs with potential which may or may not be fulfilled in future does City needs? We have Laporte, Stones and Garcia now who have age on their side. Would they be better complimented by a tried and tested player like Koulibaly who could give 4-5 years of proven high quality defending or someone like Dias, who although talented, hasn't quite played at the highest level yet and would need guidance himself?
Maybe with FFP gone for a year, City can just buy both and surpass defence budget of a few more countries! (For more, follow Manchester City Delhi Supporters Club on Twitter and Instagram)