Man City Delhi
A SILVA-LINING, A DECADE OF SKY-BLUE DOMINANCE: THE IRREPLACEABLE INTELLECT OF DAVID SILVA.
A Tribute and a throwback to the journey of arguably the best player to ever don a sky blue jersey, our El Mago!
David Silva signed for Manchester City on 30th June 2010
2010. Saturday. White Hart Lane.
Manchester City, a team in stark transition, kicked off their Premier League campaign here. Besides my growing support for the Sky Blues, my eyes were set on a particular individual whose highlights I devoured ever since his country won the World Cup. A newly signed Manchester City player -David Silva. Yes, the game played out to a 0-0 borefest with an unmemorable attacking presence or flair. David didn't see much of the ball either. But on the occasions he did, reminded me of a remarkably silly quote from my football coach in the amateur football after school sessions I had signed up for back then. He said, "Treat the ball as your girlfriend. Fall in love with her and treasure her. Take care of her. Just don't let the opposition get to her.", making us kids snigger with due context back then. But on this late Saturday afternoon, watching Silva with the ball that day resulted in a vehement entry of those very words recited as if suddenly witnessing the coach's statement come to life in a football game. A mastermind Silva was, taking care of that ball on the pitch like his very own, nurturing it patiently while waiting for teammates to arrive in space. This simple feat in itself felt rare, alluring enough to keep me excited for more in the games to come.
Fast forward to the present, where David Silva is finally recognized as one of the finest figures in Premier League football by those witnessing his skill on the football field, quiet validating the sky-blue fans for their continuous appreciation for the Spaniard his whole City career. The Magician, Merlin, El Mago are some of the nicknames referring directly to him, all embodying exactly what the player displays on the football pitch -- just pure dazzling magic.
Bound to approach the latter stages of his career at the age of 34, football supporters are attuned to an understanding that all good things come to an end. Despite it, one could feel the collective sinking sensation transitioning to poignant realization upon reading official statements, interviews and articles. David Silva was finally in close vicinity to the finish-line ribbon for Manchester City at the end of the season, awaiting his touch. Even though the media's attempts to deafen the impact came with rightful acknowledgments of his decade-long wizardry in the Premier League, the news never fails to hit the long-term Manchester City and Spanish midfielder's fans with a visceral blow. While undoubtedly possessing the maturity of a 34-year-old, the elegance coupled with his identifiable short stature and bushy hair on the pitch made the no. 21 hold a youthful exuberance as if always in his prime and never aging. It is tough to register his departure from the City family.
A LOOK BACK
A middle-class family man reigning from Gran Canaria, the Spanish touch works in rightful favor of Pep's current tiki-taka system. In fact, the Spaniard has been in Guardiola's radar after Unai Emery (Silva's manager at Valencia) recommended him as a perfect fit for the coach's Barcelona team. Quite ironically with respect to contemporary football business and David Silva's ball-playing abilities, Guardiola found the£24mprice-tag too expensive for his club. And 6 years later, the mastermind coach himself looked forward to coach a mastermind player, the story turning full circle. Heavily inspired by former Swansea manager Michael Laudrup and Gran Canarian midfielder Juan Carlos Valeron, he regularly played amongst boys elder than him. The roughness, toughness and upgraded physicality made him resort to a more intelligent approach of space-making and play-making; traits proving useful in the physical nature of the Premier League in England. (The official Man City documentary 'Made in Gran Canaria' explores his early rise, development and experiences which shaped him as a player for City – visit mancity.com/City+ to watch the whole documentary)
This article though is City-centric, wherein it depicts a journey, in parallel with the club's ascend into English football dominance, thereby safely concluding he was the prime focal point for this propelling success. The article looks at Silva's impact for our club and the traits which make him stand out, not only serving as a celebratory remembrance but also as impact analysis of an intelligent footballing brain for a club like Manchester City – a perfect fit.
Season 10/11
Under Roberto Mancini's reign, he switched between a winger and a trequartista, allowing him to drift into spaces left, right and centre in a more dynamic fashion, which the no. 21 successfully did while establishing a fine rapport with Carlos Tevez. And after all, THIS goal to mark his first one in the Premier League gave a cue that there was plenty to unpack from this Spanish package.
He notched 14 assists and 6 goals in all competitions in that season.
Season 11/12
It was in 2011, when Mancini's boys in blue upgraded into beast mode - doses of motivation injected in their blue blood. And David Silva was the hub of everything creative on the pitch. Aside from an impressive 17 assists and 6 goals in the Premier League, it was him dictating the game and changing the momentum of offence within a split second which was so alluring, leaving opposition defenders scrambling back to their positions in confusing states. While doing so, he established a fine rapport with Sergio Aguero (Silva did seem to bond well with Argentines on the pitch). From combining together against Swansea in a 4-0 rout to carving the Wigan defence like a hot knife against butter, Aguero and Silva established what would be one of the most consistent pairings of English football.
2011. Sunday. Old Trafford
The noisy neighbors cranked the volume up so high that it shattered the fortress walls of the Red Devils mighty home. Our Merlin was in the thick of the action, establishing his midfield prowess not just for Aguero but for the whole team. Before the goal-fest, David produced a mazy dribble inside the box, twisting and turning against a barricade of 4 Manchester United players which signified confidence indicating a threatening alarm for the opposition. He created Mario Balotelli's infamous 'Why Always Me?' goal, and in the second half orchestrated the second and third goals to take the game away from the red side of Manchester. But who knew that was just half of the frenzy because thank heavens David didn't get subbed off before stoppage time.
The 4th goal, a result of his corner taken, ended up in the back of the net courtesy of Lescott and Dzeko, while pushing a self-destruct button for United. From there on, the playmaker slotted in between De Gea's legs for a quickfire fifth, while creating two chances for the Bosnian striker in the space of 2 minutes, both of which he fluffed. And if this wasn't enough for stoppage time, we witnessed a moment of dazzling magic which showcased the pure skill, technique and vision the Spaniard possessed, manifesting into a controlled touch and defense-splitting through ball for Edin Dzeko to put the final nail into the coffin in stunning fashion, enabling pin-drop silence amongst the United faithful who watched on a majestic performance from City. Not only a statement for the club's pursuit of the title, but also a showcase of the brilliance City acquired for what now seemed like a meagre £24m bargain.
Silva's volleyed through-ball finished off a seismic day in English football
And the rest of the season is a story of football fables, throughout which David contributed with his share of integral assists and a few important goals. A slick goal against Bayern Munich in the Champions League is also worthy of remembrance, unlike City's UCL campaign that season. He totaled his tally to 21 assists and 8 goals overall. Noteworthy praises included Roberto Mancini holding his midfielder on the same level as legendary Spaniard compatriots Xavi and Iniesta, while football elites the likes of Andy Cole and Earl Barrett also praised him. He rightfully earned a player of the month nomination for his fantastic performances in October, entry to the PFA Team of the Year and of course, the legendary Premier League title Manchester City won in which he played an instrumental part.
Season 12/13
As with all elite City players, El Mago too, had his fair share of injury problems, missing a few crucial games along the way. Despite the tempo reduced, Silva managed 13 assists and 5 goals in a season where even his best attempts couldn't do much in a campaign which was a massive road bump.
Season 13/14
Despite a bouncy start to life in the Premier League, the charming Manuel Pellegrini led the Sky Blues to their second Premier League title in two years, along with success in the group stages of the UEFA Champions League. During the Chilean's reign, Silva played a freelance creative role of an attacking playmaker; a breath of fresh air from the increasingly flaccid offensive tactics employed by Mancini the previous season. Fernandinho's defensive duties and Yaya Toure's dynamic range in the middle allowed the no. 21 to drift to either side of the pitch, often playing slick one-twos with fullbacks and attackers and finding himself in more offensive positions than before, resulting in goals. An engineer by profession, Pellegrini's intricate tactics involving space manifested into Silva's gameplay, who scored 3 and assisted 3 in his first seven games (until injuries marred his run of form).
Standout performances came between March and April. Man of the match against Hull City, the quintessential Silva-esque performance resulted in total control of the game and slick gameplay associated with City's 'typical style'. He scored a wonder-goal and assisted in the 2-0 victory, an important catalyst for the club's change of form at a very crucial stage of the season. An attempt-for-a-comeback against an unlucky loss against Liverpool was also inspired by the playmaker to bring City back into the game, which they ended up losing 3-2. Ultimately, tides turned, and City won the double in inspiring fashion as Silva ended the season with 8 goals and 16 assists. He was exponentially recognizable and discussed as an instrumental figure in City's prominent rise.
Season 14/15
4 years of consistency revered by fans along with the Citizens entering the realm of 'top' clubs in the world, influenced El Mago to sign a five-year contract extension to everyone's delight. Perhaps the most you would see him featured in the media, for he generally avoided the spotlight like a silent knight, often minding his own business. This quality in itself, so rare in the glamorous world of sport, invoked a fascinating sense of mystery to his personality.
He was enjoying a more central role under Pellegrini this season around, playing a no.10 role. He started the campaign yet again in brilliant fashion with a goal against West Bromwich Albion. While the season on a whole failed to garner any trophies for Manchester City, David's individual brilliance shone like a diamond, notching 12 goals (a personal best) and 14 assists. Newcastle United and West Bromwich seemed to be his favorite opposition as he collectively racked 5 goals and 2 assists in all 4 fixtures in the league. He garnered plenty of praise from top pundits and players alike, sharing common awe for Silva's effortless fluency in this sport. The playmaker's goal against West Ham United in October embodies this awe. He took it upon himself to re-ignite City's lack of attacking flair in the game and went head-on towards the Hammers defense. He weaved into the penalty box with a classic dribble leaving two players stunned and then curled a shot into the corner, all in a moment of utter smoothness as if watching soap glide across a wet tiled surface.
Season 15/16
A Premier League season which stood apart for an underdog title win in the form of Leicester City, the blue side of Manchester finished a dull 4th place, sharing points with their red counterpart. The Spaniard too, as if fortunes connected, encountered road bumps. An injury to the internal lateral ligament of the right ankle while playing for Spain reduced the Silva-esque flexibility, noticeable in plenty of games. There was some success for the midfielder, as City lifted the EFL Cup and reached the semi-final stage of the Champions League, the furthest they had reached for a very long time. Unfortunately, Silva's presence in the second leg could have proven beneficial for the usually threatening Citizens falling meek against Spanish giants Real Madrid.
2016 proved a year that touched upon Silva's fighting spirit during testing times, relentlessly battling a long-term ankle injury to the extent of pain-killer usage – all for his love for football and desire to contribute in a rough patch. There was a nagging doubt amongst the masses that the Spanish midfielder was losing touch, with the injury taking its toll. But he battled on, as collective respect for the Spaniard increased to unimaginable levels. As a visionary, he is naturally a fighter too.
Perhaps a part of a faltering season came in the mid-season announcement translating to Pep Guardiola taking over Manchester City's fortunes and replacing Manuel Pellegrini in a slight helter-skelter fashion. Aside from the usual excitement of an incoming manager of legendary status, fans awaited a Spanish-to-Spanish spark between David and Pep in the coming seasons.
16/17
Transition. Plenty of it. For the staff, for the players and for Pep himself. Let's call this an experimental season, as player positions and starting 11s were regularly tweaked to fit the tiki-taka philosophy of the Spanish manager. This meant David Silva's role in the squad saw some changes, in sync with Pep's philosophies and the fading no. 10 role in football, which needed some adaptation from players. Perhaps the only thing consistent since City's inception of dominance was Silva being at the heart of it. Only, the 30-year-old had to adapt to newer positions and newer responsibilities while keeping his style the very same, just like Andres Iniesta for Barcelona under Pep himself.
Merlin was used to playing wide or as an attacking midfielder right behind the forwards under Manuel Pellegrini, but then shifted to a deeper role under Guardiola. Priorities slightly changed -- with emphasis on tempo dictation, defense-into-attack transition and buildup play, letting De Bruyne play the more creative role upfront. Pep's experimentations, like a scientist acquiring new chemicals, also meant they switched roles in various occasions midway.
Experimental philosophies and transition meant our midfielder could only be involved in 19 goals throughout the season in all competitions. But on the pitch, the transition was proving to be successful. David thrived under this new role, and next season awaited fans and players alike.
17/18
Dominane.Dominance.Dominance.
Incoming one of Citizens' most successful Premier League campaigns by far, where the jigsaw pieces of Pep's ideologies fit perfectly in. The manager's reliance on beautiful, eye-pleasing football meant a reliance on Silva in the thick of this action, the football field his canvas. Sporting a new Pep-inspired hairdo, his sublime talent manifested into a double against Swansea and Stoke, an important Derby goal, and a goal against Arsenal in the EFL Cup Final. He also notched 14 assists for the season, pretty well for a player in his position adapting to extra defensive duties as well as dictating play in the middle of the park. All Pep sung were praises for El Mago.
Alas, a bittersweet family moment tested David Silva to his extreme; his son was prematurely born. A worrying situation, for he was the last person in the world you'd imagine would deserve to go through a situation like this. But for years of dedicated service and contribution, the least City could do and did very well, was give the midfielder an understanding shoulder and indefinite time off to be there for his family. I still remember the day I was scrolling through Twitter which read the heart-shattering news and Silva's rushed presence to the hospital. My fists clenched tight for prayers.
But fighting spirits don't come better than this. Merlin stayed strong for his son Mateo and regularly turned up to Manchester to feature for games despite the indefinite layoff allowed. In stressing times like this, in his words 'he found joy on the pitch, where all the worries disappeared'. Rushed phone-calls in the dressing room and mental stress arrived, but David didn't shy away from contributing to City's rampant form and title pursuit; a true hero!
And the outpour of deserved love and well-wishes during the game against Spurs, which David and his girlfriend Yessica watched on his iPad from the hospital, helped him weather the storm with warm strength. Our prayers were answered soon, and Mateo was successfully born (and what a cute baby he was!). Tackling these personal problems gave a new perspective, for which Silva was rewarded with a 100-point Premier League campaign.
He was nominated for the PFA Premier League player of the Year for his inspiring performances and a dominating title win, but predictably falling victim to the agenda like many others of the City faithful as he ended up merely a nominee and not a winner. This article hopefully, does the job of bringing his performances and abilities to light, moving past tangible individual achievements over consistent impact on the footballing world. For all the silverware, it was compassion during the toughest times which Silva remembers, the club remembers, and of course the fans remember. It was a golden season indeed!
Moreover, a contract extension till 2020 was a welcome sight to the delight of everyone associated with city, placing a cherry on an appetizing season.
Mateo Silva and David Silva step on the pitch together (Picture Courtesy: bbc.com)
18/19
A dramatic upgrade. A dramatic fight.
A wonderful season started off on the brightest terms, with Mateo Silva already marking his first appearance as a beautiful mascot against Huddersfield coupled with his father's 250th Premier League appearance. Cheers from the whole stadium and a flurry of happy tears on Twitter defined this perfect moment – turning even better with a slick free-kick from Merlin himself to extend the widest smiles on the faces in Manchester and the fans. A beautiful sight indeed.
David Silva also marked his 350th appearance for Manchester City soon after. The club, playing tirelessly in 4 competitions, relied on the playmaker's contribution of 10 goals and 14 assists for a mega-silverware season and decent progress in the Champions League marred by the VAR. He occasionally captained the club in Vincent Kompany's absence, even proving to be inspiring for the youth team with didactic tips and guidelines in training sessions.
19/20 and PRESENT-DAY
While fingers were crossed for a fateful reconsideration, the bombshell soon dropped officially. This was El Mago's final season in sky blue colors; and no matter how many times you read this, the sinking feeling always feels intense – It is difficult to imagine a Silva-less City, just like a body trying to replace a spine.
Liverpool vexed Manchester City through and through, establishing an almost embarrassing gap for most of the season and coasting clear to win the title. This also seemed to symbolize a fading essence of Silva's contribution to winning games, whose appearances considerably reduced with the age factor and an adjusting squad. Even though game time was largely reduced for the midfielder, he notched up 10 assists for the 10th consecutive season, a record quite recently accomplished in a master-class David Silva performance against Newcastle, where he also scored a peach of a free-kick. Praises, testaments and celebrations were everywhere when Silva completed his decade with the club, as I realized that this level of attention attained is something Silva deserved years ago.
Alas, 2020 had other unpleasant surprises in store. The world came to a stop with the deathly Co-Vid pandemic, putting an understandable pause to football action for 2 long months of quarantine. While the action has resumed, Merlin's farewell plans have gone off schedule. The pandemic still in-large prevents public gatherings in the stadium, with just the club staff and players present with utmost precaution.A poignant way to spend his last phase in a City shirt, yet a contract extension till the end of the season means we still have some of his magic left to cherish. Pep Guardiola publically promised a deserved thunderous farewell for the no. 21 when things resume to normalcy – a sentiment in sync with the supporters not just of the club but of the football universe itself.
Silva's Manchester City career in statistics (Picture Courtesy: author)
A solid spine for the four-time Premier League winners since his arrival, Silva indisputably possesses a gifted brain, with a high football IQ. This manifests into his personality, and then onto on-pitch performances. What are these Silva-esque traits which separate him from the bunch?
Sniper Vision
Vision – an important playmaking aspect. Merlin is perhaps the equivalent of a pro-soldier wielding a sniper rifle, taking carefully aimed shots which impact the opposition in the most hard-hitting way, catching them by surprise. These traits embody into his passes and through-balls, and was the first noticeable characteristic everyone associated with David's expertise.
Almost as if his eyes are a 360-degree panoramic camera, Silva manages to adjust and pick a pass for the player in most space on the pitch, even if he isn't facing the player. While his legs take control of the ball, his eyes move everywhere in rapid speed comprehending in a split second the pass he needs to execute in order to release a player occupying the best position.
David has recorded 18,619 passes in 360 Premier League appearances, putting him fourth-highest in all-time top passers of the Premier League. On top are former city-counterpart Gareth Barry, former Spanish counterpart Cesc Fabregas and rival counterpart Michael Carrick – all with way more appearances than our midfielder. He also ranks second in the all-time list of through balls provided. 2 more assists for him this season would see him entering the top 5 all-time assist providers in the league.
The Craft of Space-Making
Space and the Silva – a perfect combination. Whether it's a 10-man bus parked in the penalty box or a swarm of 5 players surrounding him from all sides, the Spaniard manages to not only find space for himself but also others along with him.
The concept of half space is his favourite part of the pitch to utilize and is where the intensity of the heat-map also points out to. Let's analyze the De Bruyne goal-winning game against Chelsea, and Silva's influence on the pitch:
Manchester City love playing the ball from the back, using their defenders (even the goalkeeper), to initiate the passing move and take it upfront in an intricate tiki-taka system. Against Chelsea in particular, Otamendi received the ball in a position and saw Silva in the middle of the pitch, making him an almost obvious option to pass it to. But Silva plays out a clever strategy. He moves further upfront, retreating from Otamendi. This prompted central midfielders Kante and Willian to cover him, as Silva pointedDe Bruyne's direction, now freed from Kante's pressure. He took this as cue to sneak past Fabregas into a better position. In a split second, De Bruyne had ample space to play a one-two and score a belter against Chelsea, all with a clever space making strategy prompted by the no. 21, not tangible in the form of statistics and data.
Silva's movement enables space for the full-back and De Bruyne (Picture Courtesy: Tobias Hahn, thefalsefullback.de)
In another typical Silva-esque space creation example, his composure in holding the ball instead of advancing forward with it pays of very well. His free no. 8 role allows him more time on the ball which enables surrounding midfielders to advance in support for passing options in free spaces, or a full-back/winger surge into the box which manifests into a defense splitting pass to find them in clear space. This is Sane's goal against Crystal Palace in a move defining the latter strategy.
A defense-splitting pass is all it takes to craft a goal
Drifting Pace
No, he is not the fastest player on Earth, if we look at the ability to make darting physical sprints. In fact, it's the pace of his ability to drift on the pitch either as a free no. 8 under Pep, a no. 10 role under Pellegrini and a trequartista under Mancini which convinced managers and coaches to give him free reign on the pitch. David Silva knew how to make split-second runs into spaces to receive the ball, catching the opposition off guard most times. This ability also helped establish a link up play with strikers playing intricate one-twos defeating jam-packed defenses.The no. 21 (perhaps they should allot the no. 21 role to the drifting midfielder) is so quick in hunting spaces on the pitch that it often leaves the opposition baffled on how to effectively mark him.
This screen grab against West Ham at the Etihad shows his drifting zone and positional play, also showcasing his decade-long on-pitch liaison with Aguero.
Merlin drifting into the penalty box (Picture Courtesy: Mford94, youtube.com)
Peaceful Presence
While not a captain in the conventional sense, (to be fair, it is quite tough to imagine him with loud and passionate dressing-room speeches at half-time) his leadership skills construct on the pitch, determining the tempo in almost all his 430 appearances for City. And he does it with utmost composure almost misleading us to think that football is the easiest sport in the world, for that is how he makes it seem.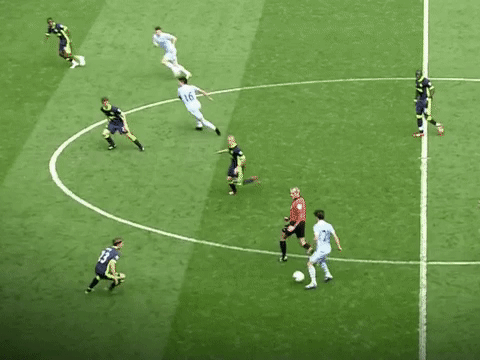 Humility
As established earlier, David Silva is not your typical model footballer basking the media spotlight with glamorous suits of Armani. In fact, just the opposite, as you'll always find him in the football dressing room, on the pitch, or some happy moments from City TV. For years, no one was sure if David Silva even dated someone, and if yes, what was her name? He loves being the silent knight, articulating his thoughts on the pitch instead of words from his mouth – and that is what matters. His down-to-earth personality and continuous appreciation for his teammates is what makes him such a likeable personality, barely touching upon the ill-fates of money and fame. The introverted football player expresses all he has to on the pitch, with his team-mates and for the manager and the club. And that proves more than enough. It makes our heart warm seeing his baby boy and girlfriend consisting of a happy Silva family, along with his second family – Manchester City.
Consistency
While he may not have been synonymous to the first thought of a legend in his home country, overshadowed by Xavi and Iniesta, or Raul and Di Stefano, who played for Spanish giants Barcelona and Real Madrid respectively, he was barely overshadowed on the pitch for Manchester City in a physically demanding Premier League. Silva reduced on-paper theories to dust and excelled for a decade. Ask any Manchester City fan and expect back"I can't imagine Silva not playing for City, nor City succeeding without Silva"for an answer, for such was his impact. Through the injuries, personal problems, tactical changes and even silverware heartbreak,Silva was the consistent glue which held the family together with a sense of hope, optimism and calmness, just what he translated to on the pitch. Involved in 150 goals in 306 Premier League games, it is proven how consistency goes on to carve legends and tougher goodbyes.
----------------------------------------------------------------------------------------------------------------------"I remember at the beginning when he arrived on the Spanish national team, he suffered from a lot of ankle injuries because he used to get kicked a lot on the ankles," says Joaquin Maroto, a journalist with Diario AS who has been covering Spain's national team for 30 years. "He moved his feet very fast, and he [circulated] the ball quickly to make the game flow and to help his team-mates.
"I asked him why he didn't use any bandages for his ankles, as he was the only player in the whole team that played without bandages on his ankles. He said: 'I prefer to take the risk of getting an injury. If I bandaged my ankles, it would be like blindfolding my eyes.' Beautiful, isn't it?"
----------------------------------------------------------------------------------------------------------------------
I imagine a heterotopia of football stores selling 'Silva 21' jerseys adorned by kids playing street football, imbibing exquisite skills of passing, ball control, vision and awareness in their game play. If not, what many of Silva's fans would commit to is his action of kissing the wrist upon celebrating a goal, dedicated to his cousin sister Cynthia's battle with cancer aged just 5. The words 'Never Surrender' on another one of his tattoos embody the City and the Silva mantra, establishing an evergreen bond.
In the true sense of the term'legends', they are irreplaceable. Comparable, sure! But constant contributions in a realm involving intensity, intelligence and integrity, all while crafting a sense of unique identity defining an essence, is unjustified when downgraded to being 'replaced'. There will be players, like our very own Foden with congenial midfield excellence, yet with a charm of his own. And De Bruyne establishing his creativity with ultimate hedonism, semblance to Silva's initial years in Manchester City, yet not replacing him. The best attribute about our Spaniard, he got to our club something not many do -- a piece of himself, very much unique to him. It's not just a single trait but a combination of traits defined above which make him irreplaceable.
David Silva is that legend, gradually transgressing past the usual conventions of stat-padding media presences to become an icon in world football one could look up to with a wave of comfort and security, because he never disappointed. Ask those who have watched the Spaniard on a regular basis, for they'll always find joy on even the worst of his days; a quality you can only associate with naturals like him.
As for the way forward, one should hope City scout the best of talents sharing an unconditional love for the club pushing it to great heights. And when it comes to style, they hopefully possess personalities and traits so unique to them, that they consistently perform without aging, without playing like they don't fit in, or without trying to be someone they aren't, for that's who David Silva was. Here's to acquiring future players with qualities uplifting the game, rather than look to replace David Silva, for his intellect is irreplaceable.
And as for the near future, I can imagine witnessing with moist eyes our magician for the final time in City colors with an etched 21 glowing on his back. Accompanying the teary eyes and a sunken heart would be the widest smile, grateful for everything he has ever done for us, for me, as I look forward to the much-awaited pompous farewell he so richly deserves.
WE AT MANCHESTER CITY DELHI SUPPORTERS CLUB ARE TRULY THANKFUL TO DAVID SILVA FOR HIS 10 YEARS OF SERVICE TO THE CLUB, AND FOR BRINGING US SO MANY GLORIOUS MOMENTS OF PURE JOY AND ECSTASY DURING HIS TIME HERE. THANK YOU SO MUCH, DAVID! 🙌🙏
Follow us for more Manchester City related news and features: @mancitydelhi